Careers
Do the colors of success run through your veins?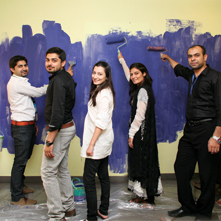 At AkzoNobel Pakistan, we believe that our employees are the vital ingredients in shaping our company's future.
Our HR team has a clear mission to unleash the organization's intellectual energy to propel extraordinary business growth and design business focused people solutions.
Being part of dynamic culture which entails rich working experience with expert professionals who have diverse exposure from various disciplines helps employees to learn and grow together.
We have a vision to become a Talent Factory, recognized for development opportunities for our people and strong leadership practices. We recognize that improved management capability is the key enabler of a high performance culture, a better environment for employees and ultimately our business success.