A Bit of History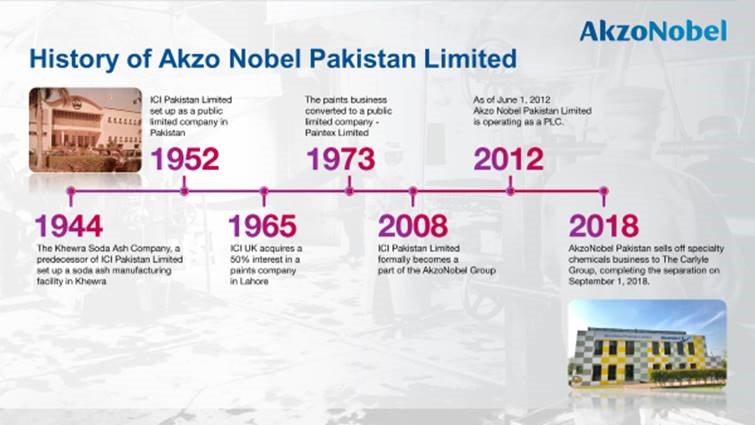 1952
ICI Pakistan Limited was set up as a public limited company in Pakistan. However, ICI was an active presence in this part of the world well before the formation of the public limited company and indeed, even before Pakistan itself was created.
1965
ICI UK acquired a 50% interest in a paints company in Lahore
1973
The paints business in Lahore was converted to a public limited company – Paintex Limited
2007
ICI Pakistan Limited completed 50 years of continuous listing on the Karachi Stock Exchange
2008
ICI Pakistan Limited formally became a part of the AkzoNobel Group, bringing us under the banner of one of the largest coatings and chemicals companies in the world.
2011
The Board of Directors of ICI Pakistan Limited approved a proposal from its ultimate holding company Akzo Nobel N.V. to restructure its interest in ICI Pakistan Limited by separation of the Paints Business into a separate legal entity through a scheme of demerger.
2012
As of June 1, 2012, Akzo Nobel Pakistan Limited is operating as a separate legal entity.
2018
Specialty Chemicals separated from ANPL from September 1, 2018.